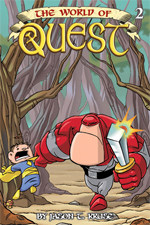 Over at Tiamat's Manga Reviews, Tiamat has gotten word direct from creator Jason Tkruse that his full-colour comic series, World of Quest, is being cut by Yen Press due to lack of sales. While this has yet to be confirmed by Yen Press themselves, it doesn't come as much of a surprise to me if it is the case.
World of Quest is a full colour, all-ages comic about a young prince named Nector who teams up with a banished knight to find a legendary sword and defeat the monsters who get in their way. Yen Press has released two books, the first in November 2007 and the second more recently in December 2008.
This series always seemed an odd fit for Yen Press, whose fair-sized catelouge of books consist of mangas and manhwas. Where did World of Quest fit in? Honestly, I don't feel it ever really did, and because of this, I never saw it get the kind of promotion that I thought it would need to create sales. This is a book that should've been targeted at kids, been in the children's section of book stores (here I've only seen it stocked with the manga) and taken more advantage of the currently running animated television show.
Would this series have been better suited to another of Hachette Book Group's imprints? They have other imprints specially made for children's books that seem they'd be a better match.
That said, even as a Yen Press book, World of Quest likely suffered also from the full year wait between volume releases which is a long while for most to wait, let alone this book's apparent target audience.
Truth be told though, I don't know all the factors behind the publishing choices of this book, or its apparent cancellation, but I do know that this was a pretty fun little series (granted one with a cartoon that I didn't find nearly as amusing) and it'll be sad to see it go. If there's one thing I've learned from years of excellent company, it'ss that there's a market for every comic if you know where to look and I'm sure World of Quest could've found one for itself if given the right push.