Less than a week until Halloween! Everyone have their pumpkins carved, costumes ready and candy purchased? :) As promised last week, here's part two of my Halloween recommendations! There's certainly no shortage of good reads this time of year. You can read part one here.
Godchild/The Cain Saga
Kaori Yuki
Published by Viz Media
Publisher Synopsis: "Deep in the heart of 19th Century London, a young nobleman named Cain walks the shadowy cobblestone streets of the aristocratic society in which he was born. Forced to become an Earl upon the untimely death of his father, Cain assumes the role of head of the Hargreaves, a noble family with a dark past. With Riff, his faithful manservant, and Mary Weather, his 10-year-old half sister, Cain investigates the mysterious crimes that seem to follow him wherever he goes."
Kaori Yuki has always been good at the gothic, beautiful and majorly creepy. My favorite of her works is undoubtedly The Cain Saga, which is branched across several series. In English you can read the story in the 4 1/2-part (volume 4 spans two books), Cain Saga and the longer 8-part, Godchild. The twisted and sadistic natures of the villians is enough to give anyone the chills as we follow young Cain on his often futile struggle to find peace in his quest for survival and vengeance against his abusive Father's organization.
Alive
Kawashima Tadashi & Adachi Toka
Published by Del Rey
Publisher Synopsis: "A strange virus is making its way around the globe, causing its victims to commit suicide. It less than a week, it's a lethal pandemic. Now a group of Tokyo teens who have survived the outbreak are wondering why they are still alive."
Alive is a really great series that blurs the line between shonen simplicity and seinen-style execution perfectly. The first volume is a positive creepy and engaging start to the series as a mysterious rash of suicides begins happening all across the planet with survivors fearing who will be next to take their own life with such content. Toss in some scary individuals and some strange powers, and Alive is a perfect series to start this season.
Kurosagi Corpse Delivery Service
Eiji Otsuka & Housui Yamazaki
Published by Dark Horse
Publisher Synopsis: "Your body is their business! Five young students at a Buddhist university, three guys and two girls, find little call for their job skills in today's Tokyo . . . among the living, that is! But all that stuff in college they were told would never pay off-you know, channeling, dowsing, ESP-gives them a direct line to the dead . . . the dead who are still trapped in their corpses and can't move on to the next reincarnation."
One of my favourite series currently being released in English, Kurosagi Corpse Delivery Service makes for an entertaining read with every new volume. A combination of its stylish art and subtles moods make KCDS such a great series because it really grounds the supernatural encounters in real life, never being buried in a lot of unrealistic hype and flash that seperates fantasy-stories from reality. The characters are likeable, the corpses are scary and the story just keeps getting better and better.
Review: (Vol. 04) (Vol. 05) (Vol. 06) (Vol. 07)
Pet Shop of Horrors/Pet Shop of Horrors: Tokyo
Matsuri Akino
Published by Tokyopop
Publisher Synopsis: "A smoke-filled alley in Chinatown harbors Count D's Pet Shop. The pets sold here aren's your everyday variety and the Count prides himself on selling Love and Dreams in the form of magical creatures that come with an exclusive contract. But buyers beware. If the contract is broken the Count cannot be held accountable for whatever may happen. A fascinating and macabre look into the very soul of human nature."
Matsuri Akino's Pet Shop of Horrors is one of my favourite manga series, period. The attractive, detailed art style works as a perfect medium for the eery stories of Count D's pet shop patrons and their inevitable fates. Social commentary, thought-provoking climaxes and some harsh lessons to be learned fill the pages of this stylish, horror manga. Tokyopop describes it perfectly as "a fascinating and macabre look into the very soul of human nature."
Reviews: (Vol. 01) (Vol. 02) (Vol. 03)
Beyond My Touch
Tomo Maeda
Published by DMP
Publisher Synopsis: "Mizuno and Mamoru never saw eye-to-eye in school. Nervous glances, crippling shyness… every day, a tangled web of feelings threatened to keep them apart forever. But when Mamoru dies and returns as a ghost, the boys unearth a truly special connection. Can this new love from the great-beyond bring Mizuno back to life, or will his shadowy past bury all hope?"
For those who're looking for some supernatural this Halloween season but aren't into the scary aspect, then Beyond My Touch could be just the fluff you're looking for! A sweet story with a suitingly adorable art style make this a great one-shot boys' love story that shows friendship and love can trascend death itself.
Review: (One-Shot)
Daemonium
KOSEN
Published by Tokyopop
Publisher Synopsis: "The gateway to hell is opened in this tale of demon bloodlust and angelic redemption…Alone and disfigured from a tragic car accident in his childhood, Seisu is plagued by haunting visions and hellish nightmares. But when a stay at a remote monastery brings the mysterious young man Yabrail into his life, Seisu discovers not only what's behind his fragile state of mind, and also that heaven and hell aren't as distant as he once believed…"
KOSEN's first volume of their new series, Daemonium, makes for a real visual treat. Angels, demons and a creepy haunted building are only some of the great parts of the art to look forward to. The story itself lends a lot too of course with some deadly secrets lurking around every cobwebbed corner.
Review: (Vol. 01)
XXXHolic
CLAMP
Published by Del Rey
Publisher Synopsis: "Watanuki Kimihiro is haunted by visions of ghosts and spirits. Seemingly by chance, he encounters a mysterious witch named Yûko, who claims she can help. In desperation, he accepts, but realizes that he's just been tricked into working for Yûko in order to pay off the cost of her services. Soon he's employed in her little shop—a job which turns out to be nothing like his previous work experience!"
A series that earns every one of its praises, XXXHolic lives up to the artistic and storytelling standards that CLAMP fans have come to expect. The lively Watanuki brings humour and energy to this ghostly tale of spirits and souls, with the mysterious and gorgeous Yuko to weave together the unexpected. There is no such thing as coincidence in the world of XXXHolic, which patrons of her store and readers alike will come to learn.
Reviews: (Vol. 01) (Vol. 11) (Vol. 12)
---
Of course what I've listed are only a few of the awesome series available out there, licensed and ready to be picked up off store shelves! Keep an eye on my site in the next week for more series and books to keep in the spirit of Halloween!
In the meantime, here're some reviews for other books that shouldn't be missed from fellow bloggers:
MW
Osamu Tezuka
Published by Vertical
Publisher Synopsis: "Comics god Osamu Tezuka's darkest work, MW is a chilling picaresque of evil. Steering clear of the supernatural as well as the cuddly designs and slapstick humor that enliven many of Tezuka's better-known works, MW explores a stark modern reality where neither divine nor secular justice seems to prevail. This willfully "anti-Tezuka" achievement from the master's own pen nevertheless pulsates with his unique genius."
Deb Aoki says: "MW is a suspenseful story that mixes sex, politics, military cover-ups, genocide and murder in a heady, sometimes bizarre mix. It's dense with historical and political details, but Vertical serves it up in one hefty volume so readers can strap in and enjoy this creepy, yet compelling ride."
Read the full review by Deb Aoki
Parasyte
Hitoshi Iwaaki
Published by DelRey
Publisher Synopsis: "They arrive in silence and darkness. They descend from the skies. They have a hunger for human flesh. They are everywhere. They are parasites, alien creatures who must invade—and take control of—a human host to survive. And once they have infected their victims, they can assume any deadly form they choose: monsters with giant teeth, winged demons, creatures with blades for hands. But most have chosen to conceal their lethal purpose behind ordinary human faces. So no one knows their secret—except an ordinary high school student. Shin is battling for control of his own body against an alien parasite, but can he find a way to warn humanity of the horrors to come?"
Julie says: "Shinichi is your normal, every day high school student, until this weird alien worm thing tries to eat his brain. A total failure at nomming gray matter, the alien instead drills a hole in Shinichi's right arm, effectively taking it over… …It would be very scary to have a deadly, emotionless being attached to your arm, threatening you. Creepy!"
Read the full review of volume one by Julie at the Manga Maniac Cafe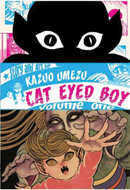 Cat Eyed Boy
Kazuo Umezu
Published by Viz Media
Publisher Synopsis: "Cat-Eyed Boy is a half-human, half-monster child who mostly resembles a human, and therefore cannot live in the demon world. He lives hidden in the shadows of the human world, hated by both demons and humans. But wherever he goes, awful events occur. Humans interact with demons, but for the most part the humans that appear to act more evil than the monsters. Cat-Eyed Boy acts like Trickster, saving the innocent and helping the wicked receive the punishment that fate metes out. The stories are mostly tales of revenge and retribution for the evil acts people do. The series is broken into 11 individual stories, full of extremely grotesque and disturbing images."
Charles says: "The Cat Eyed Boy is part cat, part boy (shocking!) and rejected by society, holes himself up in the attics of unsuspecting "victims". The role(s) Cat Eyed Boy plays in the individual stories varies, keeping the reader on his toes. Sometimes CEB is a story-teller, letting us in on some horrific secret hiding in the home he is camping in. Other times he is active participant in the story's events. Sometimes both. This duality in CEB's character pulls the reader in a unique way, as he talks to us AND interacts with the characters in the stories."
Read the full review of volume one of Cat Eyed Boy by Charles over at Manga Village