Though for the next couple of weeks, I'll be posting reviews for books I believe readers will find entertaining in the spirit of All Hallows Eve, they're of course only the tip of the iceberg for what those looking for a good scare or mystery can find out there! So on the weekends from now until then, I'll be posting some summarized series recommendations (in no particular order), for series I've enjoyed that fit the theme. You can check out the first batch of ten after the cut and expect some more next week! Enjoy, and feel free to make recommendations for fellow readers in the comments :)
---
Black Sun Silver Moon
Tomo Maeda
Published by Go!Comi
Publisher Synopsis: "Taki thought he knew exactly what he was getting into when he accepted a job at the church as an assistant — and he was mostly right, although the job description never mentioned dealing with zombies! When night falls, the mysterious priest Shikimi and his new assistant venture into the graveyard to destroy the freshly risen dead. The enigmatic priest always seems to know when and where these creatures will appear, and as the days go by, Taki begins to suspect that the danger may also come from within…"
While the zombie-hunting doesn't last too long in this seven volume series, the supernatural twists never end! As Shikimi and Taki grow closer, the priest's dark past is slowly revealed and predicts a dangerous future for everyone close to him. Check out Tomo Maede's debut manga for some amusing character interactions, interesting creatures and prophecy, a charming art style and come enjoyably creepy foreshadowing.
Black Sun Silver Moon Review: (Vol. 06)
---
Death Note
Tsugumi Ohba/Takeshi Obata
Published by Viz
Publisher Synopsis: "Light Yagami is an ace student with great prospects but he's bored out of his mind. All that changes when he finds the Death Note, a notebook dropped by a Shinigami death god. Any human whose name is written in the notebook dies, and now Light has vowed to use the power of the Death Note to rid the world of evil. But when criminals begin dropping dead, the authorities send the legendary detective L to track down the killer. With L hot on his heels, will Light lose sight of his noble goal…or his life?"
Don't let this series' sky-rocketed fame or badgering fanpeople be a deterrent for you! Death Note is a gritty, thought out story of murders, detectives and Shinigami (Gods of Death). The complex weavings of Kira and L battling it out in an effort to defeat the other and better the world is a marvel to behold through their detailed thought processes and often obsessive compulsive natures. It's a tense read from start to finish as you wonder just how far these intellectual behemoths will go in their efforts to achieve what they believe is right.
Death Note Review: (Complete Series)
---
Kieli
Yukako Kabei/Shiori Teshirogi
Published by Yen Press
Publisher Synopsis: "Kieli sees ghosts. It's an odd ability for a 14-year-old girl, and it makes her a bit of an outcast at her boarding school. Her only friend, in fact, is the (semi-) departed spirit of a girl who used to inhabit her room. That is until the two encounter a young man who appears to share Kieli's "gift." It doesn't take long to discover, though, Harvey is an altogether different sort of creature — one of the infamous Undying, the reanimated corpse of a dead soldier. Could it be that in this cursed fellow Kieli has finally found a kindred spirit? Throwing in her lot with this strange, soulless man and his possessed radio, she means to find out…"
With the second, and final, volume due out this month, it's the perfect time to head out and buy volume one! Kieli tells the story of a dark future through the eyes of it's lead character, a girl who can see ghosts. Readers will be introduced to spectrums both good and bad and it's a wonderfully paved path finding out what ghost is what. With an underlying plot, beautiful artwork and some imagery that sticks with you, Kieli is a perfect mix of character reflection and ghoulish interactions.
Kieli Review: (Vol. 01)
---
Nightmares for Sale
Kaoru Ohashi
Published by Aurora Publishing
Publisher Synopsis: "The mysterious Shadow and his assistant Maria run a small pawnshop. Every customer of their shop experiences unforeseen consequences because of his or her dark side. What they pawn there may be something that they are not supposed to let go. Nightmares For Sale volume 1 contains five nightmarish tales of horror, plus the bonus nightmare 'Jealousy in a Bottle.' Afraid of nightmares? Be afraid, be very afraid!"
Nothing like some short horror stories to provoke some thought and Nightmares for Sale often does just that! Via the plot device of a pair owning a mysterious pawn shop that offers even more mysterious, and often sinister, solutions to patron's problems, these volumes of shorts deal with some of the most bare and basic elements of the human nature and more often than not with dire consequences. Some stuff that makes you think and gruesome art that avoids crossing the line of gratuitious makes it a fun series to sit down with.
Nightmares for Sale Reviews: (Vol. 01) (Vol. 02)
---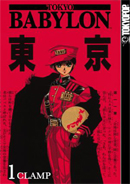 Tokyo Babylon
CLAMP
Published by Tokyopop
Publisher Synopsis: "Tokyo, the cultural and economic hub of the Eastern world. Not unlike the legendary city of Babylon, its man-made tower stretches toward the heaven; a symbol of its people's ambition and their indomitable spirit. Nowhere on Earth will you find such vanity or such beauty. This is my home. My name is Sumeragi Subaru, and I hunt the dead and return them to peace. No matter where my work leads me, I suspect I'll never leave Tokyo in spirit…it seems so few people do these days…"
An oldie but a goodie for sure! Tokyo Babylon is the chronilogical prequel to CLAMP's popular X/1999. It follows the youth of Sumeragi Subaru, a prodigy of his family who travels Tokyo and leads the souls of the dead to their final resting place with his powers as an onmyoji. His innocent nature and energetic twin sister make it a fun read while a shockingly dark story is woven in the background, leading to one of the most gut-wrenching finales in CLAMP's notorious history. Numerous rereads and this classic never gets old or dull.
Tokyo Babylon Review: (Complete Series)
---
Pathos
Mika Sadahiro
Published by Digital Manga Publishing
Publisher Synopsis: "Ace has been raised in happiness by the beautiful young men King and J. To thank them, Ace adores them as older brothers and grows innocently attached to them. But as Ace grows, J becomes colder to him with each passing day. The truth is King and J are immortal vampires, and J has kept his distance because he may become unable to resist the scent of the fresh blood of the growing Ace."
Pathos is the story of a 'family' that's anything but normal. The forbidden lust burning between the characters and their murderous yearnings make this story anything but borig. Did I mention they're vampires? Boys' love fans who love it dark, dirty and full of biting scenes ripe with ectasy-latent inneudo would do well to pick up Mika Sadahiro's Pathos!
Pathos Review: (Vol. 01)
---
Mail
Housui Yamazaki
Published by Dark Horse
Publisher Synopsis: "Private detective Reiji Akiba has a theory about those weird coincidences we all encounter in life. There are actually encounters with the dead – their way of sending us a message. But you may not want to open such strange mail from beyond – not unless you can see the ghostly attachment, like Akiba can. And not unless you carry a tool that can kill what isn't alive, like Akiba's sanctified gun Kagutsuchi… digging a divine grave to lay to rest the evil dead!"
Mail wins the prize for being the only manga that's left me reaching for my room's light switch! Breath-takingly well paced scenes work readers up to horrific panels of ghoulish spectres, corpses and vengeful spirits. The detective Reiji Akiba may be coming to your rescue, but that doesn't mean he'll get there in time… One of the best horror series out there in English so don't miss out!
Mail Reviews: (Vol. 01) (Vol. 02) (Vol. 03)
---
Fairy Cube
Kaori Yuki
Published by Viz
Publisher Synopsis: "Ian and Rin used to just see spirits. Now Ian is one. Using the Fairy Cube, Ian must figure out how to stop the lizard-spirit Tokage from taking over his life and destroying any chance he has resurrection. Ian is transported to another world by the fairy Ainsel, who promises to help him stop Tokage upon their return to the human plane."
Fairy Cube take it's creepy-cues from fairytales of old where there's much more to those magical beings than wings and tininess. Soul-stealing schemes, mysterious magic and sinister literal backstabbing make this an eery three-part story that doesn't need ghosts, vampires and zombies to make it creepy in its own right.
Fairy Cube Review: (Vol. 01)
---
Ghost Hunt
Fuyumi Ono/Shiho Inada
Published by DelRey
Publisher Synopsis: "Kazuya Shibuya, the handsome young owner of Shibuya Psychic Research, has been hired to investigate paranormal activity at a school haunted, possibly by ghosts from the Second World War. Also at the scene are an exorcist, a Buddhist monk, a woman who can speak with the dead, and an outspoken Shinto priestess. Surely one of them will have the talents to solve this mystery!"
Ghosts are a staple of Halloween spookiness but you have to find them first, right? That's where the Ghost Hunters come in, a mix-matched team who're called in to investiage paranormal activity. What really adds a unique charm to these stories (aside from the very likeable cast of characters) is the diverse relegious nature of their group, from a Buddhist monk to a Catholic priest. They all work together to see to that dangerous spirits are dealt with though sometimes it means putting themselves on the line. A definite recommendation for anytime of the year.
Ghost Hunt Review: (Vol. 01)
---
Twilight of the Dark Master
Fuyumi Ono/Shiho Inada
Published by Digital Manga Publishing
Publisher Synopsis: "In 2009, Shinjuku's drug trade just got a whole lot bloodier. A new narcotic endows users with demon-like horns, fangs and a raging appetite for human flesh. When a man named Eiji Kuraza transforms into a murderous demon and then goes missing, his girlfriend Shizuka will stop at nothing to find him. Following a trail of violence, narcotics and prostitution, Shizuka hires supernatural P.I. Tsunami for his expertise, while she joins the red light district to conduct her own investigation."
Gruesome murders and drugs with a deadly and demonic effect on their users make the city of Shinjuku more than just a dangerous place to live in Twilight of the Dark Master, a great read for some supernatural suspense. It's a one-shot manga so you get it all in one tidy little package. Check it out for some action, mystery and a group of powerful individuals looking to guard their own stakes in it all.
Twilight of the Dark Master Review: (One-Shot)