It's a special edition of Swag Bag today that may very well be the first of many. Just after I got back from TCAF, I received my first shipment of French-translated manga which I ordered through Amazon.ca. While my French is a little rusty, I was blown away by the selection the French manga market offered and had to try ordering some, especially when they have a number of the series that Tokyopop's demise left hanging. Now with the books in hand, I'm equally impressed by the quality of the books themselves.
Because I can't read French well enough to follow a complicated story, I opted to predominantly buy boys' love – simpler stories and lots of eye-candy if I can't follow it anyway. Plus these first two titles are books I've been dying to own for a long, long, time.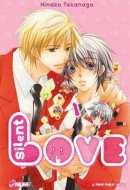 Silent Love is a multi-volume series by Hinako Takanaga. It's about a young man who has severe trouble expressing himself. He may be jumping for joy on the inside, but his exterior stares forward blankly saying nothing. It's an adorable story of misunderstandings and learning to express and interrupt affection in more than the usual ways. I only bought volume one but you can bet I'll be buying more – and maybe another copy of volume one to send to a certain English manga company with a long pleading letter.
The second book I tore through packaging with my teeth to get at was Whispers – a single book collection of stories by one of my favourite artists, Naono Bohra. Most of the stories in this book are connected to eachother either as a continuation or a spin-off of the original story, one about a young men killed in a plane accident and then reincarnating as a little boy and showing up on his lover's doorstep. No shota though, these are guys who know how to wait! At least until high school anyway…
Speaking of artists I like, I also bought a one-shot book called Do You Know My Detective? by Hirotaka Kisaragi. Like strong men in suits and a fiery pretty boy in Asian-style women's attire? This is the book for you! The last manga volume I bought isn't boys' love but is about a subject matter that can be just as bitter and sweet – chocolate! As a fan of her works released in English, I bought Setona Mizushiro's one-shotmulti-volume series Heartbroken Chocolatier.
All these books are published in France by the company Kaze. Heartbroken Chocolatier is under their shoujo line, Kaze Shojo, while their boys' love is printed under an imprint called Asuka (though the imprint apparently includes more than just BL in its line-up). Each book is about the standard manga volume size and all have glossy, full-colour cover slips to oogle.
My final purchase was entirely out of curiousty – a boys' love anthology that I'd read numerous people rave about in envy. Could it be that impressive? Could it possibly be that shiny? And could something so high-quality come out bimonthly? Excuse the production-value fangirling but yes, yes and YES.
BE X BOY is a common name to boys' love fans as a huge serialization magazine for the genre in Japan that's run almost 20 years. The French publisher Kaze Manga knew popularity when they saw it and published their own edition under the same name – BE X BOY –  in France. They're printed in limited runs (so get 'em while you can if you want the issues!) and come out once every two months.
The issue I bought is volume seven, July 2010. The moment I picked up this book I fell in love, excluding the fact I can only understand 47% of what's being said.
The book has a large trim size (about 6″ x 8″) and it has 388 pages of boys' love stories. The paper quality is fantastic for an anthology – the same you'd see in a manga volume in most North American editions. The book has a smooth matte outer covering (you know the kind, you just want to keep running your hands over it!) and glossy foil  lettering on the pretty pink cover. Inside there's a full-colour, fold-out poster and the first five pages are in colour on glossy paper. This is a book you need to hold in your hand to really grasp the quality of it but suffice to say it's definitely a collectable and not a throwaway item.
The artists you'll find in this particular issue – which sports five continuing series, four new starting series and 1 one-shot – are Ayano Yamane, Rie Honjon, Tsuta Suzuki, Modoru Motoni, Yonezou Nekota, Yu Minazuki, Mio Tennohji, Shinri Fuwa & Kaoru Iwamoto, Makoto Tateno and Youka Nitta. Oh yes, in one book.
While I can't speak to the quality of the translation, knowing only limited French and even less Japanese, the presentation of it is at least high quality. I'm a sucker for good lettering and it's neat (along with a little disorienting) seeing the same font used here as I'm used to seeing in English editions. Most of the sound effects are kept in place with translations next to them excluding a few times when they replace them altogether, whatever looks best.
The cost of these BE X BOY editions? $10.95/CAN. Almost half the price we'd pay here for a single volume of boys' love manga. If you can get a copy, I highly recommend it. Even if you can't read French it's an inspiring (and envy-inducing) eye-opener as to what the power of a strong buying market and tight publisher relations can support.
Will I be buying more French manga? You bet your manga volumes I will be. With this quality and these prices, I have a feeling my ability to read French is about to get a lot better, my bookshelves even fuller and Amazon.ca very happy with me.